Concert 'The Great War Remembered'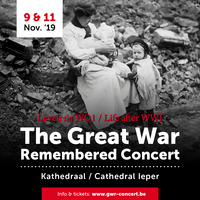 Every year the Last Post association organises 'The Great War Remembered Concert' in Saint Martin's Cathedral.
This concert wants to contribute to commemoration, by turning back 100 years and immersing the audience in the atmosphere of the Great War. Instrumental and vocal music from the best quality, in combination with original WW1 images, make this concert unique.
Online tickets: https://www.gwr-concert.be/en/home/
Or buy at front desk Tourist Office
Price: € 30,00 or € 40,00
Dates
wo 11 November 2020 from 17:00 to 18:30
Where
Saint Martin's Cathedral
Vandenpeereboomplein
8900 Ieper
Price
Organisation and contact
Last Post Association